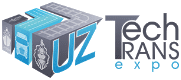 IEG Uzbekistan company presents its highest compliments and has an honor to introduce International Exhibition Group Uzbekistan (IEG Uzbekistan).
---
It has an honor to inform you on holding of the International Exhibition «UzTechTransExpo-2019», which will be held on 27 – 29 March, 2019, NEC «Uzexpocentre», Tashkent, Uzbekistan.
Your company is invited to take part in the International exhibition «UzTechTransExpo-2019». The exhibition will be held at industry forum.
Specialists are invited to visit the exhibition through a professional database for the countries of Central Asia and Kazakhstan, (10,000) also experts from regions are invited by specialized government agencies. For attracting of a wide range of visitors is provided a broad advertising campaign: street banners, advertising in periodicals, advertisements on radio and television, the official press conference in which you can participate and communicate with journalists.
Detail information of the exhibition is attached.
Murat Irismetov
Project manager
IEG Uzbekistan
Tel./Fax: +998 71 238 94 67
E-mail: ieg@specieg.uz; tech@ieguzexpo.com
Web: www.ieg.uz